The Art of Local Store Marketing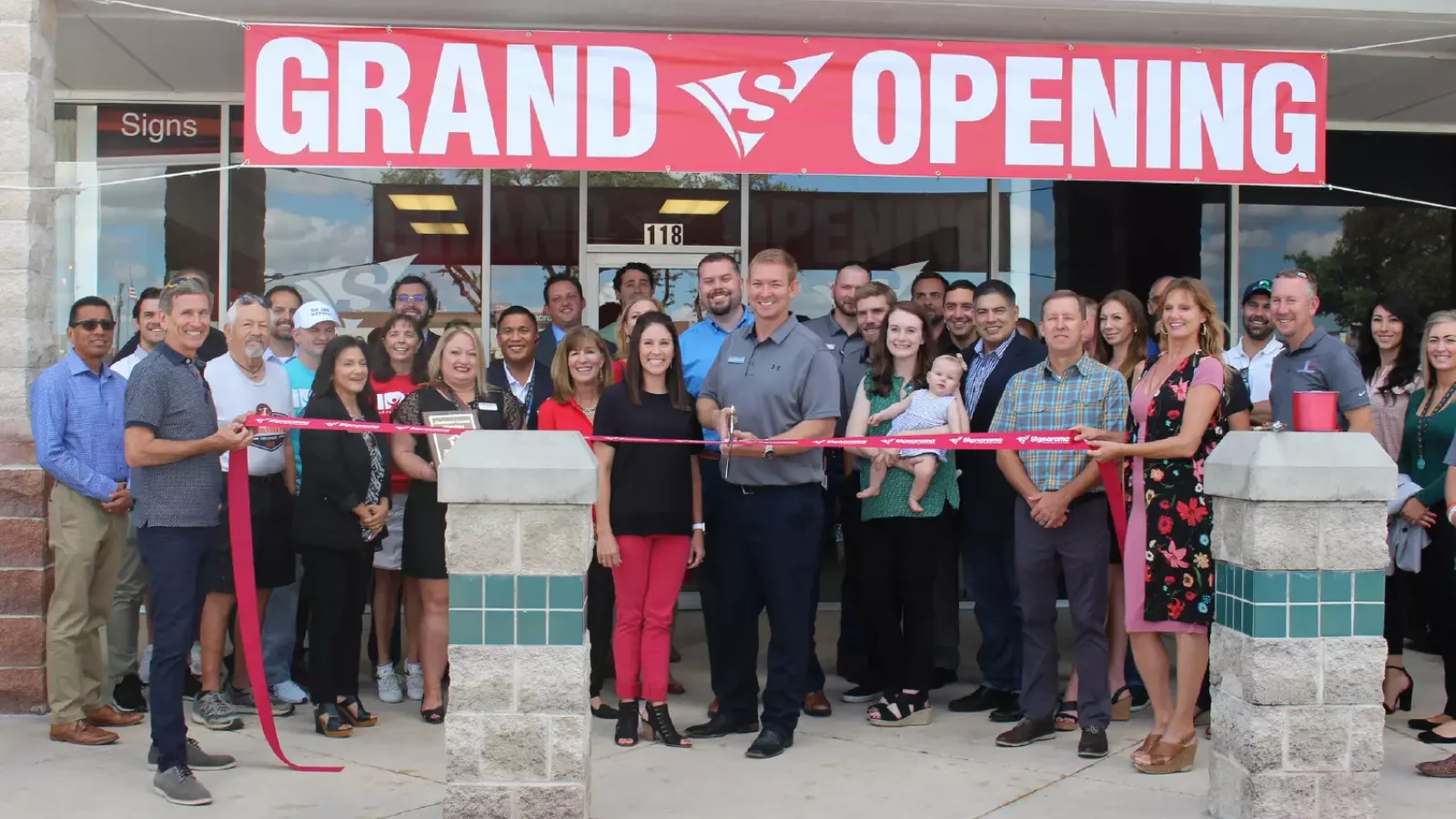 Background
Franchisees and franchisors face unique challenges with marketing and public relations efforts, including lack of tools, disinterest, and differences in operations and promotions among franchisees in the same brand. United Franchise Group is home to a variety of affiliated companies and brands, including Signarama, Fully Promoted, Experimax, Jon Smith Subs, Venture X, SuperGreen Solutions, Transworld Business Advisors, Accurate Franchising, Network Lead Exchange, and The Great Greek Mediterranean Grill. As business partners, franchisees require PR and marketing support that will help them grow and in turn drive traffic and sales for the company statewide. With more than three decades in the franchising industry and 1,600 franchisees, United Franchise Group was looking to equip franchisees with grand opening, public relations and marketing support tailored to their needs.
Strategy
With the busy schedule of a small business owner, Ink Link Marketing set out to identify the needs of franchisees, making local store marketing and public relations strategies simple to carry out. The key was to develop materials that would allow franchisees to follow brand-specific United Franchise Group-specific tone and messaging customized to the needs of the franchisee and the interests of the local market—all a predictable, reasonable cost. Most franchisees are operations-minded, and our team allowed the franchisees focus on what they do best, while helping raise awareness for their locations.
Tactics
Ink Link created a reproducible manuals filled with templates, instructions, and checklists for public relations, promotions, community outreach and event planning. All programs were designed to coordinate and create excitement for the weeks leading up to and the day of the grand openings, workshops, limited time offers and more. Although these manuals served as an in-depth overview, Ink Link Marketing always provided direct contact information for any one-on-one questions or comments.
Research
Prior to activating a local store marketing effort, Ink Link Marketing gathers information among the franchise partners and on their locations. We communicate directly with franchisees, identifying current and seasonal trends in the industry to develop ideas for future marketing calendar. Opt-in programs Ink Link Marketing can provide support for are provided for franchisees to choose to participate in.   
Our agency also houses a running database of the key publications in all markets of United Franchise Group brands. Trade area audit, including analyses of competitors in the area and businesses' SWOT analysis, are created for each location opening along with a 60-day trade area community calendar with appropriate opportunities to conduct outreach on behalf of the brand.
Comprehensive How-To Guides
Local Activations
Venture X, a coworking franchise, aimed to create a culture and act as an event space for the community. Ink Link Marketing created a guide to local activations, from set up to breakdown, securing press, advertising buys, and additional marketing efforts. The local activation guide for Venture X led to partnership with Books & Books and Rachel Hollis– A New York Times Best-selling Author. The event secured 175 RSVPs and collected 125 emails for a single location's database.
Workshops
Similarly, Ink Link Marketing developed a comprehensive how-to guide for Experimax, a franchise specializing in the buying, selling and fixing of Apple© products. Experimax's goal is to be a leader and go-to when purchasing pre-owned products, or when needing an expert opinion. Since all Experimax locations vary in pricing and product, this guide allows franchisees to conduct their own educational workshops in their markets. The guide outlined the best practices of community outreach, workshop ideas, and a run down of media relations explained.
Grand Openings
Before Ink Link Marketing was signed to carry out grand openings before for United Franchise Group's brands, our team developed grand opening manuals comprised of how-tos and outlines of everything a franchisee would need to coordinate a grand opening and ribbon cutting from start to end. This included recommendations for entertainment, invitations lists, run of shows, templates for press materials and more.
Food Drops and Dine-Ins
For food brands, consumer media is key. With its running database of local contacts, Ink Link Marketing works to place on-air mentions in exchange for food deliveries to radio stations. Similarly, Ink Link Marketing holds relationships with Influencers off all categories to conduct influencer dine-ins and delivery for social media posting—all for the price of the product itself. To do this, our team of pitchers provide radio stations and influencers with talking points and key information tailored to each location's promotions, operational hours, and more. Once a food drop or dine-in is secured, Ink Link Marketing works directly with the store's franchisee or general manager to manage communication, coordinate the opportunity, and ensure all runs smoothly. Ink Link Marketing also provides display how-tos and step-by-step instructions for any on-camera cooking segments.
Location Spotlights
Each location has their own milestone, promotion, or other announcement to celebrate locally. Ink Link Marketing provides each location with spotlight support through shell releases, questionaires and example cases. Shell releases for campaigns are developed for each brand that included all the brand-specific information needed for promotions and announcements, leaving customizable spaces for franchisees to insert franchise-specific information. Questionnaires groundbreakings, grand openings, fundraising and other relevant milestones allow franchisees to share information, which we then vet and develop local story angles. Ink Link Marketing also connects with franchisees to include case examples and franchisee experiences in press releases and other news items issued by the brand. Our agency will then also pitch these in the spotlighted franchisee's local markets — generating a sense of importance and inclusion for the franchisees.
Results
Since Ink Link Marketing's first project with United Franchise Group, Ink Link Marketing has coordinated more than 100 grand openings, developed grand opening manuals for each of United Franchise Group's 10 brands, provided franchisees with more than 10 shell press releases, grew a one-phone-call away relationship with franchisees and more. Ink Link Marketing has now signed an upgraded platinum package deal with one of the brands (Venture X) where we handle all activities including on-site staffing, catering and outreach, conducting