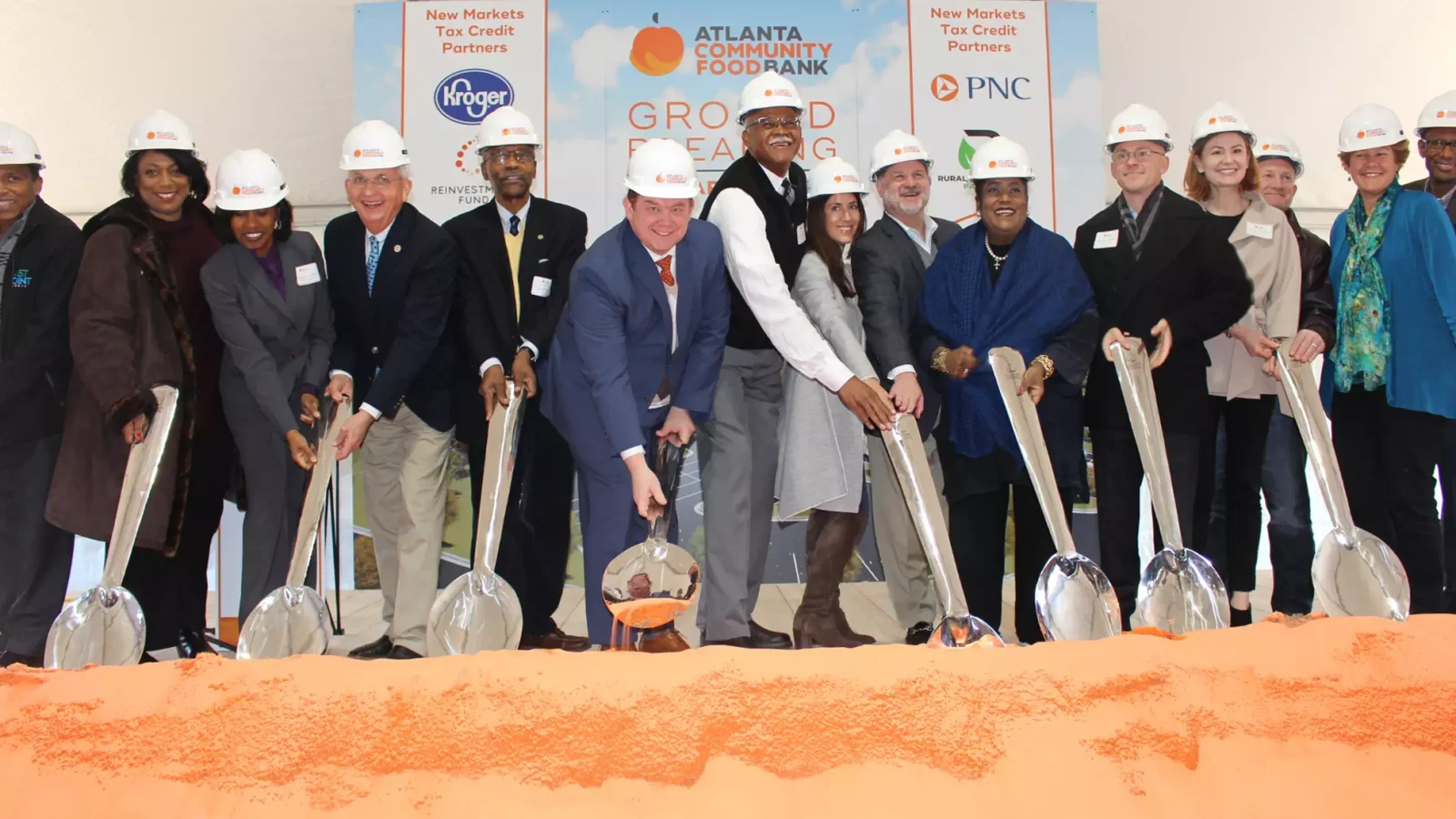 Situation Analysis
Public relations teams are hired primarily for their media relations and abilities to raise awareness for clients, but most agencies are far from being one-dimensional in their services. Clients may often benefit from the myriad of talents that each agency possesses. Such is the case for the Atlanta Community Food Bank (Food Bank) and their PR Agency Of Record, Ink Link Marketing.
The Food Bank, a leading nonprofit organization across metro Atlanta and northern Georgia, provides services for the food insecure, was hosting a groundbreaking ceremony for its newest headquarters. The larger facility offers the organization the ability to expand their services and support even more individuals in need. Each year, an estimated 1 in 7 people in metro Atlanta and North Georgia turn to a Food Bank partner for assistance.
The Ink Link team is well-seasoned when it comes to groundbreakings and grand openings. The agency has helped open hundreds of restaurant locations around the globe, as well as other brick-and-mortar sites for a variety of organizations and businesses. Nonprofits aren't much different. This groundbreaking initiative was situated perfectly in their wheelhouse.
Strategy
As a full-service PR and marketing agency, Ink Link Marketing leveraged their team's skills to go beyond their public relations role. The team developed a series of attention-worthy and memorable concepts for the Food Bank to consider for their groundbreaking and supported these efforts with their key strength of media relations. The agency also focused on showcasing event management expertise to support their client and help elevate the event.    
Tactics
In addition to their role as publicists, Ink Link developed a comprehensive event checklist to guide the Food Bank through the groundbreaking, considering pre, during and post event tasks and timelines. They also did the following for the Food Bank groundbreaking.
Drafted invitations, press materials, media advisories, talking points, fact sheets and Q&As.
Drafted an elaborate Run of Show for groundbreaking ceremony, including a schedule of the day and key vendors and contacts.
Identified and secured vendors for event needs; i.e., tents, transportation, gifts, décor, refreshments, etc. 
Contacted local officials and secured a proclamation.
Secured media to attend and cover the event.
Managed on-site media for desired coverage and interview opportunities.
Developed shot lists for on-site event photographers and videographers. Ink Link also provided their own photography services to offer additional photos.
Provided hands-on support for event setup and cleanup.
Conducted post-event media outreach with a press release, photos and video footage.
Results
Ink Link developed a comprehensive plan and helped the Food Bank execute on it, ensuring that details, big and small, would not be missed. In the process, the agency was able to demonstrate that their skills and talents extended beyond traditional PR.
The Food Bank groundbreaking ceremony secured more than $1 million in publicity value, including airing on five TV stations and being featured on seven online sites. The publicity reached more than 56 million people surrounding the initiative.